Text
In RagTime, large amounts of text are handled by containers. A container takes in imported text including all formatting and automatically adds, if necessary, new pages to the document. Of course you can write and edit text in RagTime directly – RagTime would be too good to act as a mere text importer.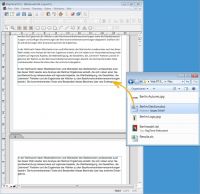 There are two possibilities to arrange text continuously on several document layout pages:
You use the standard container of a new document which automatically creates new pages, if necessary.
You arrange several containers on the layout pages and link them with Pipelines. These arrange that text flows into the next container when one container is completely filled.
The automatic text flow mechanism from one container to the next is also used in the master layout. In the master layout you create suitable master pages for the various page types of a larger document (e.g. a magazine or a business report). On these master layout pages, text containers are arranged and linked with pipelines so that new pages of the same type are created automatically if the amount of text requires this.
RagTime.de Development GmbH
Steinriede 3
30827 Garbsen
Germany
Tel.: +49 5131 70 93 6-0
Contact us by e-mail