What is Business Publishing?
Collecting, editing, layouting and distributing various data plays an important role in almost every industry, in companies and institutions of all sizes. In addition, it takes a significant amount of time, i.e. of working hours.

In business publishing, the working methods of an office environment converge with the professional layouting capabilities of DTP. In a convenient layout environment, text, spreadsheet calculations, images, drawings, and charts are integrated in a single document.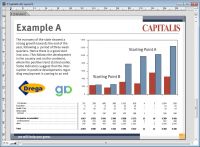 Typical examples for business publishing documents are sales papers such as price lists and catalogs, as well as reports, statistics and analyses. Whenever you need to present well-prepared figures and facts, you cannot do business publishing without RagTime.
What characterizes a business publishing software?
Business publishing is more than just DTP and the printout on mainstream office printers. The environment must offer advanced capabilities:
Spreadsheet calculations with typographical capabilities (for the results of calculations and tablular composition)
Charts representing complex data
"Active" connections between spreadsheet, chart and text for automatically updating documents

Import/export of common document formats from the office environment, including formulas and formats
Flexible output capabilities on mainstream office printers (color and b/w), in HTML and Acrobat PDF, and on imagesetters

Direct link to scanner and digital camera software
Color separation of typical office RGB data (e. g. from clip art, scanner or digital camera) for conventional print output
RagTime.de Development GmbH
Steinriede 3
30827 Garbsen
Germany
Tel.: +49 5131 70 93 6-0
Contact us by e-mail