Business Publishing in Practice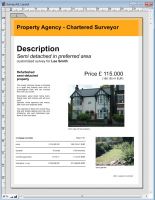 Sales documents

Convincing sales arguments demand perfect sales documents. In this case, the tools of a modern page layout program are a clear must: Free positioning of all elements, rotation of any object, text flows in free forms, selection of the colors (even using the CMYK model), importing pictures in the standard file formats such as PDF, TIFF, JPEG, PNG, EPSF, etc.


Reports and analyses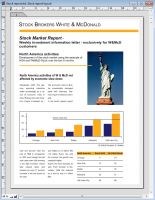 Periodic business reports and analyses can be efficiently produced with RagTime. Linked spreadsheets and graphs always show your most recent data. With electronic stationery pads and style sheets, the routine tasks take care of themselves.

A typical form in RagTime is much more than just a design template. Dynamic links create an active document. If the figures are modified, a diagram will adapt to the changes. The text flow can also contain analysis formulas or even a spreadsheet calculation. And here again, the dynamic link ensures that everything is up-to-date and consistent. Nonetheless, you retain the freedom to individually modify each page.

With the RagTime SlideTime function, you can present your reports and analyses in full-screen mode as well as a self-running presentation.
Price lists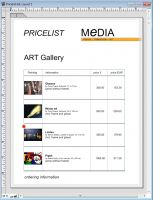 RagTime is the only publishing program that sports a spreadsheet function, which is suitable for demanding tablular composition, that uses paragraph and font styles, that can read Excel tables and has over 250 functions, which can be used for calculations and analyses.

A RagTime spreadsheet can contain not only text and formulas but also graphics and images. Last minute changes are no problem. Regardless of whether you insert or delete lines, pictures and text will always be moved correctly, even from one page to another. And the integrated color management ensures that even spreadsheets are output perfectly on the printer.
Database Publishing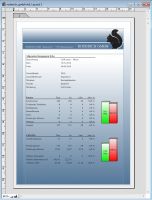 In marketing and sales, data is often held, sorted and maintained in databases. With just little effort the content of databases can be used directly in appealing RagTime documents, for presentations, reports and various marketing campaigns. Also, the database content can be used in spreadsheets, drawing objects, or in copytext, without the need for special programming or database knowledge.
RagTime.de Development GmbH
Steinriede 3
30827 Garbsen
Germany
Tel.: +49 5131 70 93 6-0
Contact us by e-mail