Tables within Text Containers
To place a spreadsheet in the bodytext (see our example), just drag it to the desired position in the text container. The text flow is automatically updated.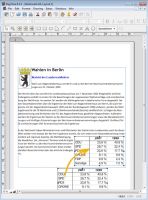 If necessary, the distances between spreadsheet and text can be specified precisely. Even if the spreadsheet is now placed in a text container, it can be edited and modified as a RagTime Spreadsheet at any time – due to RagTime's modular structure this is possible and hence allows working by intuition.
In RagTime integration does not only refer to the components that are arranged on a document page, but is also reflected in the user interface.
Depending on the component you're working on, RagTime provides all menus and buttons that you will need for your tasks.
A click in a spreadsheet that is placed in a text – like in the example – brings the spreadsheet environment to the front, e.g. allowing you to fix faulty numbers immediately.
If you need to control and edit many components and objects quite often at the same time, just group the required palettes on the screen, according to your needs.
Many menus can be "torn off", to be also available as a floating palette.
RagTime.de Development GmbH
Steinriede 3
30827 Garbsen
Germany
Tel.: +49 5131 70 93 6-0
Contact us by e-mail