Summary
An image for the page header tops off the layout in our example. Again, drag & drop an image file from a folder onto the layout. Then simply adjust size and position of the picture container and, if necessary, adjust the picture scaling to the container. The election report is complete!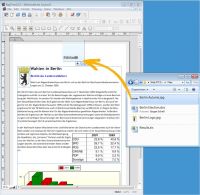 What makes RagTime so unique is not only the tight integration of all layouting tools in just one application, but also the full functionality of all components at any time.
If, in our example, the election results are subject to change, you will only need to adjust the corresponding values in the RagTime spreadsheet. Everything else is automatically done for you by RagTime – updating the election graphic, recalculation of depending formulas that may prove necessary (seats in parliament), etc.
It is this RagTime characteristic that lets us speak of "living documents".
RagTime.de Development GmbH
Steinriede 3
30827 Garbsen
Germany
Tel.: +49 5131 70 93 6-0
Contact us by e-mail