Spreadsheet Calculation
As the name "spreadsheet calculations" already suggests: this section is about spreadsheet design – with all typographical finesse, pictures, drawings, etc., and also about calculating with the table cell values – with various operators and functions. With RagTime designing catalogs or price lists is a delight!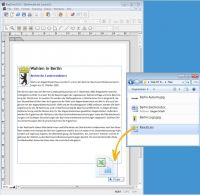 The election results in our example are listed in an external spreadsheet that is simply dragged onto the RagTime document. In doing so, RagTime transports all values, formulas and formats into a RagTime spreadsheet.
The spreadsheet calculation feature is the "jack of all trades" in the RagTime repertoire, for which both applies: it is either "table" or "calculator".
The table builds a useful layout grid for catalog-style layouting, which provides the framework to align pictures, text, drawings and other objects. You will find tablular composition no trouble via drag & drop of content or by use of import formulas. Gone the days when adding catalog records had to be regarded exhausting and a pain!
The spreadsheet allows you to execute a wide range of operations, such as concatenations, comparisons, calculations of date and time, etc. So you can ensure that your corporate documents always use proper values.
With a broad variety of features you will master almost all forms of analyses and statistics.
Together with the RagTime Connect extension, database content is retrieved and guarantees efficient database publishing.
RagTime.de Development GmbH
Steinriede 3
30827 Garbsen
Germany
Tel.: +49 5131 70 93 6-0
Contact us by e-mail