New Features in RagTime 6: New Technologies
Transparency for objects, colors, images and text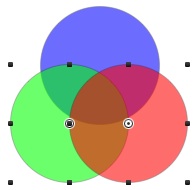 Another effect in the comprehensive support of modern operating system technologies is the application of transparencies in colors, areas, images and text. Despite the lack of transparency support by the PostScript print process, RagTime can deliver superior quality of sophisticated transparencies in RagTime 6 documents, on imagesetters and color printers. This also applies to mainstream inkjet printers.

Hyperlinks and cross-references in RagTime 6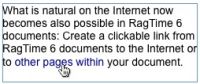 What is natural on the Internet now becomes also possible in RagTime 6 documents: Create a clickable link from RagTime 6 documents to the Internet or to other pages within your document. This makes it easier for the reader of your document to navigate to marked places, or to additional information on the Internet. Another benefit is that, in this way, you can have an email application started. If a RagTime 6 document is converted to PDF, either with Acrobat Distiller or Ghostscript, this functionality is still preserved in the PDF document.
Place PDF documents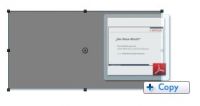 RagTime 6 can now place also PDF documents in a frame. In multiple-page PDF documents you can select the desired page in a preview dialog. On Windows, this function requires a Ghostscript installation.
OpenType support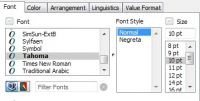 RagTime 6 now supports, in addition to TrueType and PostScript, also OpenType fonts and so enables access to the font family of the current font. The font type (PostScript, TrueType or OpenType) in which an installed font is available is clearly visible in the fonts list.
Anti-aliasing with GDI+ and Quartz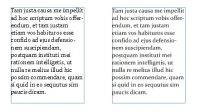 New technologies in Windows and Mac OS X have considerably improved the display of text on monitors. RagTime 6 supports these technologies (GDI+ on Windows, Quartz on Mac OS X) and uses them not only for the display of text but also for hairlines and other graphical elements, and improves the overall impression of your documents when viewed on a monitor. Especially rotated and small text, as well as inclined hairlines are displayed in RagTime 6 in superior quality.
RagTime.de Development GmbH
Am Kahlen Berg 19
30826 Garbsen
Germany

Fon +49 (5131) 70 93 6-0

Contact us by e-mail